League News
Suggested Committee To Run the Club
Since Lou Danielczyk resigned as Commissioner two years ago, our interim Commissioners both Glenda Leake and Jeannie Shepard found how much work was involved while the rest of us just showed up to play. Running the league and administering to the court is too much for one person to handle alone. Which is why we are proposing a League Executive Committee to run the league in the future and we are looking for volunteers to head up the sub-committees. The whole committee should meet sometime in late April to plan for the upcoming season and as needed afterwards. Inter-committee meetings can be held as needed to establish total number of teams, schedules, requirements for court maintenance etc. We envision the committee as follows:
Commissioner

• Face, phone call and decider.
Membership:

• Collect member fees
• Assigns unattached members to teams
• Develops final rosters
• Works closely with treasurer & Commissioner
Treasurer:

• Collects membership fees from Membership
• Banks funds & keeps accurate record of Clubs finances.
• Pays bills
• (Maureen Danielczyk has volunteered)
Court and Shed:

• In charge of the condition and reconditioning of the court & shed.
• Responsible for recruiting help from membership for projects.
Communications and score keeping:

• Responsible to maintain website
• Distribution of intra club and public information.
• Posts scores on website & keeps record of scores
• (Bill Ryan has volunteered)
Scheduling:

• Schedules matches
• Offers alternatives for conflicts
• (Marcia Ryan has volunteered)
These are the subcommittees and if you have any interest, let us know at the picnic or email Glenda or Bill Ryan.
The End of A Great Season
With the final games being played on Wednesday night we are declaring the Jaybirds, once again, as champions. They are tied in total points with the JILTs, both having 40 total game points but the Jaybirds edged them out with a total of 142 total points scored vs 132 points scored by the JILTs. An outstanding effort by both teams who were always willing to accept subs to fill out their rosters when needed, even to the point of accepting two players from the worst team in the league to play in their final game.
If anyone would like to double check our tallies, you are invited to do so. The score book is in the shed and our spread sheet will be attached for download. Sheet1 of the spread sheet tallies the game points and Sheet2 tallies the total points scored less tie-breaker scores.
Since he was always available to substitute and eventually played better for everyone else's team but his own, we are declaring Steve Myers as this year's MVP. Congratulations Steve! We're not sure what we appreciate more, your good nature or your skill; probably both.
Finally, we want to thank all the teams who played and rescheduled during a rainy and challenging season and a special thank you to Terry Bennetto for the beautiful ball racks. We look forward to getting together with most of you for our end of season potluck on September 23 from noon to 3PM at the pavilion in Donaldson Park also known as the Rec Field. Come ready to discuss scoring and league leadership.
New Ball Holders
After 2 tries by others at making ball holders, Terry Bennetto finally got it right for us and considered the total circumfrence of the balls. He has actually made ball holders that can hold all four balls plus the pallino. And they are nicely finished too. Thank you Terry!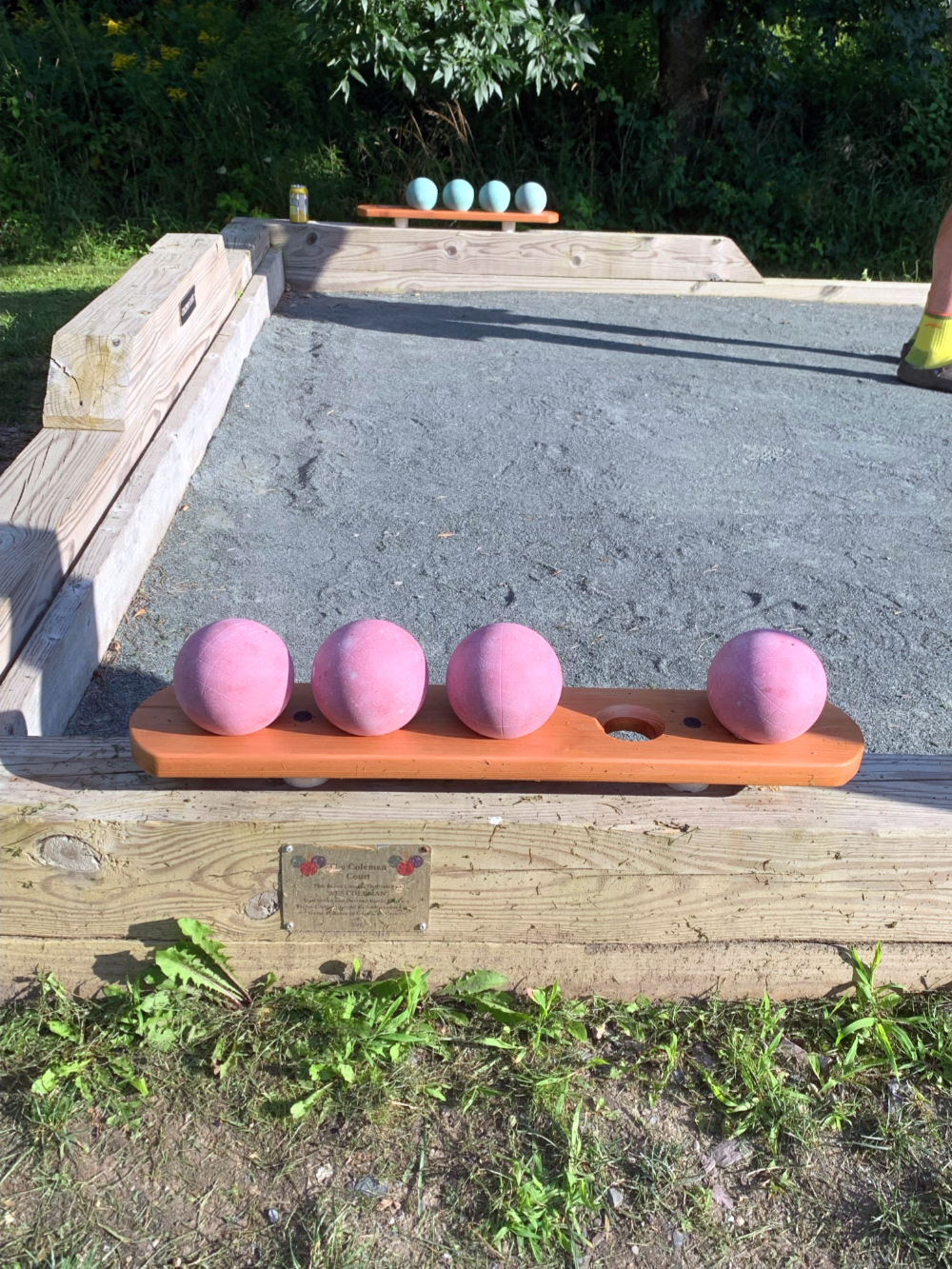 Rx For A Rainy Season
Based on a suggestion from Lou Danielczyk, can we make a suggestion to all our teams? If you have tried two dates to make up a rain out and the weather has not cooperated, and both teams are in agreement, we will allow a co-default and both teams will be awarded 2 points for their efforts. In this way the season can move on.
How the Website Will Work
First, we want to thank all of you for reporting the scores from your matches. With reliable reporting we can promise that in most cases the results of a given evening's matches will be posted that evening or at the latest, the next morning. Final standings for the week will be posted the evening of or the morning after the last match of the week. Our new schedule that has all teams playing once each week, allows the leader board to show a true picture of the league's standings. Since it is early in the season there are many ties on the leader board and those teams are listed in alphabetical order.
If there are rainouts, please let Bill Ryan know by email or text at 802-363-1365 with the make-up date. He will post it on the schedule as soon as he can.
Finally, during the average week, excluding the July Fourth week, scores should be posted on the evenings of the games or the morning after. They will stay posted until Sunday night when the new grid of games will be posted. The standings will be posted as soon as the last game of the week is played and will stay posted until the update of the following week.